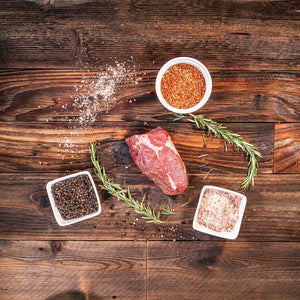 Our Top Sirloin Steaks are tender and hearty, perfectly cut and portioned for your culinary delight. Our Black Angus beef is of the utmost quality, with a flavor and texture that top chefs and home-cook connoisseurs have come to depend on for its reliability and consistency. The marbling found in Angus beef is naturally abundant, providing a buttery flavor and depth of flavor that can't be found in other cuts of beef. Enjoy the richness and complexity of this succulent cut of steak.
Enjoy one of our pasture raised and always hormone and anti biotic free Black Angus Top Sirloin steak.
Steak will be 13-16 ounces cut thin and come frozen in a vacuum sealed bag.
Product ships frozen and will arrive frozen or partially thawed.